he revolutionary New Fantachrome™ Coating System produces a mirror-like (100% reflection), chrome finish on almost any kind of surface.
NEW FANTACHROME is a water based coating.
Not only does it look like chrome but it also feels just like real metal plating.
That happens through a chemical reaction between the components that are applied by spray like a common paint.
It is a revolutionary new product and the only viable alternative to traditional electro chrome plating that is available on the market.
However, unlike traditional chroming New Fantachrome™ is very simple to apply.
For its application special equipment manufactured and supplied by our company is required.
The compact New Fantachrome™ Application Machine with its unique dual spray guns is a complete and professional stand-alone work station.
The New Fantachrome™ Application Machine has maximum mobility and uses very little valuable workshop space.
Access to all part of the New Fantachrome™ machine has been made easy for cleaning and filling
pressure pots.

All fittings are of the highest industrial standards and allow easy tool free assembly of pipes and guns.
New Fantachrome™ complies with the highest standards required by regulations in force.
The New Fantachrome™ Application Machine allows easy transportation to perform external work.
Each New Fantachrome Application Package includes the necessary Equipment and Materials to immediately start your New Fantachrome Business Centre.
However, the most important benefit in working with New Fantachrome™ Business Centres is our "TEAM" approach working with you and your staff to produce the desired results.
(This guide is just meant in order to give a general idea about application.
Detailed instruction is supplied together with the product)

1 – UNDERCOATING
a) NON ABSORBENT MATERIAL Directly pass to item c)
b) ABSORBENT MATERIAL Basecoat 1a must be applied on polyurethane base, commercially available, on absorbing materials, such as gypsum, wood, concrete, fiberglass, polyurethane etc…
c) Uniformly apply catalysed primer for Fantachrome.
Let it dry for an hour at 55-60°C.
After an hour drying the process can be started, but for a better result let resting for 12 hours and start the chroming process the day after. After getting dried it must not be touched with hands
2 – CHROMING STEP
a) To Activator 2b must be added the compound 2a. When it gets straw-yellow  it is ready to be applied.
It must be sprayed uniformly on the primer.
b) The surface must be properly and uniformly washed with bi-distilled water.
Pour into the large blue can 4a the liquid that is in the little can 4a; after that this mix can be put into the can of the chroming machine.
c) The chromed solution must be applied with 4a and 5b simultaneously. It must be sprayed from the bottom to the top.
d) The surface must be washed again properly and uniformly with bi-distilled water.
Now dry using compressed air from the top to the bottom.
3 – FINAL TOPCOAT
The final topcoat catalysed chrome effect or in various colours (gold -chrome – blue – green -red – brown etc) is to be applied. After applying the final top coat the product can dry for about an hour at 50°C or for 12 hours at room temperature.
CONCERNING POINTS 1. AND 3. THE PRODUCT MUST BE APPLIED WITH A NORMAL GUN.
CONCERNING POINT 2. THE PRODUCT MUST BE APPLIED WITH OUR SPECIAL MACHINE FANTACHROME
 
DEMONTRATION VIDEO: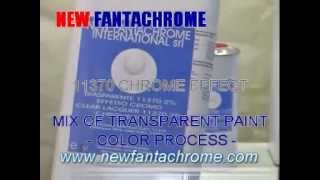 I am totally inexperienced, how can I start using your products?
2021Fanta2021
2021-10-13T12:31:21+02:00
New Fantachrome manages in its plant special courses training the staff
on how to use the products, which applications are possible, the mistakes to
be avoided and how to realize samples on different materials. Attenders will
directly perform applications followed by our technicians.